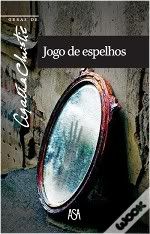 Jogo de Espelhos (They do It With Mirrors)
Agatha Christie
Asa
Mistery
176 pages
I generally love Agatha Christie, and I tend to read her books in one sitting, but that didn't happen with this one.
It's a Marple novel, and I generally do prefer other detectives (it just frustrates me that part of the solution is based on those comparisons with someone on St. Mary Mead), but I don't think that's enough to explain why this book failed to captivate me the way others have.
I think part of it was that I just didn't care about the characters all that much. I especially didn't care at all about the victim, since he practically just walked in and got killed, and there was very little to know about him. I also didn't especially care for the person they were supposedly all trying to protect: she's one of those older ladies Christie writes somethimes, very nice and very vague and very ethereal.
Also, it seemed to me that Christie's tendency to write mostly dialogue was taken a bit too far on this one, and instead of a fast-paced but rich reading, which is her usual, we're definitely entering "talking head" territory.
So, this one might actually be a rarity among my Christie collection: a book that I won't be rereading.